Best 4 Person Tent Review
At some point or another, every camper needs to invest in a quality tent. It's perhaps the most important part of your camping gear, and it can really make or break the whole adventure. You need adequate shelter and a place where you can rest and refuel for the activities ahead.
If you want to go camping with the family, you need to look for a tent that can accommodate everyone. This is where the top-rated four-person tents come in. They have many advantages, and it is not for nothing that this size is very popular. You get a solid space inside the tent, while still being relatively light and easy to pack and transport. Many parents choose this tent for camping with their children, but maybe you are looking for a tent that you will use alone or with your partner, so that you can move freely and have a little more space.
Anyway, the best 4 person camping tents presented here have different features, and you have to see what you like and make a choice. We'll try to help you out by providing some additional information in our buying guide, so be sure to check it out.
9 Best 4 Person Tents On The Market
How To Choose The Best 4 Person Tent?
Even if the label you're looking at says a tent is rated for four people, there are a few other things you need to think about before buying. As you've seen in our reviews of four-person tents, specifications vary from product to product. Size, design, and materials can all determine whether the tent will work for you in the long run. Take a closer look.
Capacity
This is pretty obvious when talking about 4 person tents. However, not all manufacturers have the same idea of ​​people's height, so the floor space will not always be the same. It is generally designed for occupants of average height (less than 1.80 m), so that a tent for four people can be set up without much space remaining. If you're taller than average or want to store gear inside, a four-person tent will work great if there are two or three of you. Look at the dimensions of each product and see if it is right for you. If you plan to put an inflatable mattress or a camp bed inside, don't forget to take this into account as well.
Weight
The total weight of your new tent depends on the materials used for the body and poles. Some are designed to be lightweight and compact when packed. They're a good choice for backpacking, and you can find plenty of ultralight 4-person tents that you can take on a hike, without feeling weighed down. Lightweight tents are easy to move, but you should exercise caution when buying them. Although this is not always the case, they may lack strength compared to some heavier products.
On the other hand, if you are going with a motorhome, the weight is not an issue and you should focus more on other characteristics. Most often, these tents weigh between 5 and 15 pounds. While we're at it, let's mention portability. Although it largely depends on the weight, it is not the only thing that determines it. You should check the size when packed, so it can fit in your backpack or trunk, instead of being too bulky. It's a plus if it comes in a nice protective bag with handles for easy transport.
Seasonality
Depending on your preferences as a camper, 4-person tents offer plenty of choice when it comes to the weather conditions you will be using them in. The majority of people like to camp when the weather is nice and warm, which is perfectly normal. Tents that are designed for nicer weather (1-2 seasons) come with lighter materials, fewer poles, and lots of mesh panels to allow airflow and keep you comfortable inside. Of course, they also protect you from the rain, but will not keep you dry in case of heavy rain for several days. This is usually the cheapest and most satisfying option for most users. You can also choose a 3 season tent, some of which have been featured in our reviews. They offer greater reliability and extended use from early spring to late fall. They are usually completely waterproof, use thicker materials and stronger frames for better protection.
These tents are also often equipped with a flysheet, which can be removed when not needed. It's a nice balance and the best choice in terms of versatility if you want a product that you can use for most of the year. Of course, there are also 4-season tents. They are much more resistant and can withstand high winds and a lot of snow. They are popular with climbers, and you probably don't need them if you're a regular camper. Their sturdiness doesn't mean they're heavy – some are very light. However, due to the materials used and their design, they can cost significantly more than conventional tents. In addition, they often have reduced ventilation and are not very comfortable in hot weather.
Weather Resistance
when you buy a new tent, you expect it to also serve as a shelter, not just a sleeping place. All tents like single tents or summer tents or other such tents should give you protection from light rain and some wind. It mainly depends on the fabric used, but also on the design and shape. The water resistance index (Hydrostatic Head rating) is used to indicate the impermeability of a fabric, and it is expressed in millimeters. Higher values ​​can withstand larger amounts of water, so it is important that the gnat has a good rating. Wind resistance is also important, especially if you are camping in open areas.
The frame must withstand wind exposure without suffering permanent deformation, but again, it is not necessary to have high level performance for regular camping trips. It is enough that the tent does not break when the wind becomes stronger than a breeze. It is a good idea to pitch the tent and use guy lines to keep it stable. In this way, the chances of it being blown away by the wind are also reduced. Some products (usually polyester) offer UV protection. They filter out harmful UV rays and make the tent a safer environment for you and your children. The joints of your tent can sometimes be a weak point. The joints of your tent can sometimes be a weak point. Water can make its way through the holes and into your tent. That's why you should look for tents with taped or welded seams.
Comfort
It's something that's important to all of us – we don't want to feel cramped when we step inside. Always pay attention to the size of the floor and the height of the tent when choosing. Height can sometimes be overlooked, buy you need enough room to be able to sit properly, and it's even better if you can stand up. Cabin type tents offer the most volume, as they have nearly vertical walls. Comfort also depends on the number of occupants. You will get the most out of your 4 person tent if there are fewer than 4 adult occupants. Some interior solutions and additional features can also increase comfort,
Equipment
Manufacturers try to strike a balance between strength and weight when choosing materials for their tents. Masts are usually fiberglass or aluminum. Fiberglass is more common because it performs very well and is less expensive than aluminum. However, it is not as durable and can be damaged more easily. Aluminum is also very light, but it is not as soft as fiberglass. You'll get extended durability, but often at a higher cost. The choice of fabric varies from product to product. The body is most often made of canvas, nylon or polyester.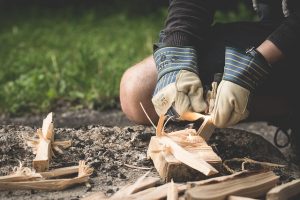 Canvas is a good choice – it's strong and offers good protection, but it's also quite heavy. Nylon and polyester are much more common these days, and there's a reason for that. Both are very light and can have good waterproofness. You can choose to get rip-stop nylon which is tear-resistant and gives your tent a whole new dimension. The materials used also influence breathability, and you should be able to get some fresh air inside.
However, waterproof materials do not allow breathing, which is why these tents must have windows and additional ventilation openings. Thereby, you will feel more comfortable and you will avoid the condensation that can form on the walls of the tent if the temperature difference is too great. All the tents we featured have two layers, which greatly increases ventilation. The first is the tent body, which usually has several mesh panels, and then a gnat goes over it to keep water out.
Design
Smart design can make your tent much easier to use. Regarding the shape, all the products we showed are either a dome or a cabin. The dome offers the best wind and water resistance, while the cabin style offers the most comfort. You will also come across ridge (A-frame), tunnel, or geodesic tents, and each of these has its ups and downs. Whether your tent is freestanding or not also makes a difference: a freestanding tent is usually easier to pitch and you can move it around.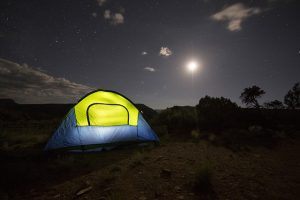 Pay attention to doors and windows: their number, shape and position. It's always helpful to have more than one door – it allows you to get in and out without disturbing other people who might be sleeping in the tent. The shape of the door can also be different, but it is important that it is large enough. Windows are a necessary addition – not only do they allow air circulation, but they give you a great view of your surroundings when you are inside.
It is a great advantage if the doors and windows have a mosquito net in addition to the fabric shutters, to keep insects out while the air can circulate uninterrupted. Tent pegs are also not the same on all products. Some tents may have fewer poles (which reduces weight), while others need to be stronger and more compact. It is useful to have a safety cord inside because they can be quickly assembled and put in place. Finally, the flysheet is an essential part of the tent and, depending on the product, it can cover only the roof of the tent or go all the way to the ground and completely cover all sides (which gives the tent better resistance to the water). Some products allow the rain fly to be quickly installed and come with guy wires to secure it.
Other Features
Many additional features can make your stay inside the tent more enjoyable. We mentioned mesh pockets, and to be honest, they're so useful that every top-rated 4-person camping tent should have them. Some products offer a gear rack placed above the tent, which allows you to organize the space you have and to lift some small equipment. On the ceiling you can find a loop that is used to attach a lamp and get light inside. Some tents have special zippered openings that you can use to run an extension cord through and get electricity if you have it. As for the exterior, you can get a tent with a vestibule (or several), which is a covered area outside the door, useful for keeping gear and shoes. Although it's rarely included in the package, you should definitely consider getting a tent footprint. Some manufacturers make prints designed for specific models, but you can also make them yourself, using a tarp. 
When Should I Get A 4 Person Tent?
You have to take this into account when you want to have company in your tent. This is good accommodation for you, your spouse and two young children, a couple of people with pets and gear, or three adults.
Strictly speaking, it can accommodate four adults inside, but only for sleeping. Some campers even use it alone, which is also okay if you want to put a bigger bed in there and know you'll be spending some time inside.
What Is The Most Important To Consider When Buying A 4 Person Tent?
Since you have decided to choose a tent for 4 people, you must first of all take into account the interior space, that is to say the total floor space you have at your disposal. Don't forget the height, you don't want to bump your head every time you sit down. Then you need to consider the factors that determine quality, durability, and ease of use. Think about the quality of the materials used to shelter you and their ability to do so during your many camping trips. As we said before, think about doors and windows too, as they can really improve your experience as a tent user.
What Features Should You Look For When Choosing The Best 4 Person Camping Tent?
If you're not going to be camping just a few times during the summer, you want a tent that can handle a bit of rain and wind without falling apart. Look for strong poles and stronger fabric. It all depends on what you are going to expose it to. It's not a bad idea to experience other users and get a better idea of ​​what to expect.
How Long Does It Take To Assemble A Camping Tent?
This is something you need to think about when buying. When you go out with the family, you don't want to spend half your day setting up the tent. If you have multiple poles that require going through the loops, you will need more time than if you have a pop up tent. However, manufacturers try to make setting up the tent as easy as possible. That's why most products can be assembled in 15 minutes or less (and even faster if you don't do all the work yourself).
How Do I Take Care of My Camping Tent?
By taking care of your tent, you will prolong its life and save the cost of repairing or buying a replacement tent. You should try to avoid unnecessary wear and tear – remove branches and sharp stones from the area where you will place the tent. Use a footprint or tarp underneath whenever you can, as it's much stronger and easily replaceable than your tent floor. Before you pack it up and store it away until your next camping adventure, be sure to clean your tent first. Remove dirt and debris, and wipe it off if there is mud. Always let it dry before putting it in the bag, otherwise it may develop mold and give off an unpleasant odor the next time you open it.
Final Verdict
Buying a 4 person tent is a smart investment because you get a nice size with great versatility. It will be a reliable companion on your travels and a solid addition to your camping gear. However, it is up to you to choose the best 4-person tent, based on certain features. We've tried to give plenty of detail in our reviews and in the guide, so you have a clear idea of ​​what you need. We are sure that you will make the right choice and that you will have a great time outdoors!