Are you on the quest for a 6 person camping tent? Read this review guide and find out the best 6 person camping tents on Amazon that you can buy in 2023.
Best 6 Person Camping Tent Review
Camping is a great way to spend quality time with friends and family. And, as you know, a reliable tent is the centerpiece of any camping trip. If you're going on a trip with your family (or a larger group of friends), you should consider getting a tent that's spacious enough.
For example, 6-person tents are a great choice when you want a little more comfort for everyone. Before choosing a tent, be sure to look at the overall design, see what materials were used, and consider whether it's weatherproof (among other things).
The tents for camping with the family we have presented offer you all this, and much more. We tried to choose the best 6 person camping tent, so that you are more likely to find the one you like. Also, our buying guide below will give you solid advice on finding the best 6-person tent, so don't miss it.
9 Best 6 Person Camping Tents To Buy On Amazon
How To Choose The Best 6 Person Camping Tent – B​uying Guide
Since the main job of a tent is to provide shelter, you need to get a tent made of high-quality materials (both the body and the frame). Also make sure that the floor space is large enough and the height sufficient, especially if you are buying a tent for several people. While these are probably the most important points to consider, there are many more that go into making the best 6 person camping tent. Take a look.
Size
There is no doubt that all of these tents are quite spacious. It is nevertheless necessary to think carefully about the arrangement of the beds, and the possibility of placing air mattresses or camp beds there. When the makers say these tents can accommodate six people, they mean people of average height. Also, even though you can fit six comfortably in a tent, there won't be much extra space between you for gear. If you want this tent to be comfortable, we'd say it's the perfect size for a family of four. Most of them fit two queen-size mattresses inside, and you'll still have room for a small table and space to put your backpack and clothes. We would also like to point out that the floor space is only partially usable, especially if the walls are steep. So always plan well before ordering, as these tents won't be very comfortable for 6 people, but they will be fantastic for smaller groups.
Height
Height is directly related to the usable space we just discussed. As they are larger tents, they usually have a center height of 6 feet or more, with some as high as 7 feet. If you are of average height, most 6 person tents or 8 person tents will be tall enough to move around freely. If you are taller, then pay attention to the height specifications we have listed under each product, and find the right one for you. We also want to add that cabin type tents have nearly vertical walls, allowing you to walk through the entire tent. On the other hand, dome tents have curved walls and offer less floor space.
Freestanding or Non-Freestanding
You've probably heard these terms many times, but you may not know what the difference between the two is. A freestanding tent comes with its own set of tent pegs that hold the tent upright. They are located outside, and you can freely lift and move it, whereas a non-freestanding tent needs to be pitched and pegged to the ground.
The support structure is located inside, and you need to spread out the tent and pitch it so that it stands upright. While freestanding tents can also be pegged, it is necessary to use pegs for non-freestanding tents, which cannot be moved. In addition to these design differences, there are also differences related to performance and ease of use. 
Ventilation
It is very important that the air circulates in the tent, no matter what type of tent you buy. Good ventilation makes the tent more pleasant and reduces condensation inside. During the night, the temperature difference between the inside and the outside of the tent becomes greater, so that the moisture in the air inside the tent condenses on the colder walls of the tent. . As you can probably guess, it's not very pleasant to see your things wet in the morning. We suggest buying a tent with large doors and windows, and preferably also a large mesh panel on the ceiling. It is an even greater advantage if the tent is equipped with additional vents at ground level. This allows air to circulate freely and water vapor to escape instead of condensing. The breeze also helps keep the tent cool, but if you're still too hot, you should consider getting a tent fan or air conditioner.
Design and Type
All of the 6 person tents we've featured are either dome or cabin-shaped, as these are probably the most practical for casual camping. As we are going to focus on dome and cabin tents, you can read our article on the different types of tents if you want to know more about the other types. Dome tents are easy to pitch and the dome shape provides excellent weather protection. However, due to their steeper sides, they offer less room to move than cabin tents.
On the other hand, cabin tents generally offer more comfort thanks to their vertical walls, but are more vulnerable to high winds. In terms of design, the first things you need to look at are the doors and windows. We think the fact that a tent has more than one door is a big plus, as you can get in and out without stepping on the sleeping person. In addition, some tent models are equipped with mosquito nets on the windows (in addition to fabric shutters), which allows you to leave the window open and not worry about insects entering. You should also think about the number of poles in the tent design and how they are connected to each other. It is very useful that the poles are color coded and have clips, so you can match them quickly.
Additional Features
The best 6 person camping tent will come with lots of extra features that will make using the tent easier and more comfortable. Many of the models we reviewed have mesh pockets on the walls, so you can store small items you need, like a camping knife or flashlight, close at hand. Gear lofts usually have hooks in the middle, designed to attach a lantern and light up your tent. Even though the lanterns are battery operated, it's a plus if the tent has a zippered electronic port, which allows you to run an extension cord through and have electricity in the tent. All the models we reviewed come with a flysheet that keeps the tent dry, so it's more of a standard feature. However, some models also come with vestibules, which are a covered extension in front of the door where you can store your gear. To take it to the next level, some models are equipped with a real canvas room that not only serves as a vestibule, but can also be used for lounging.
Equipment
The materials used are directly responsible for the performance and durability of your new tent. The tent body is usually made from either canvas (more common in the past) or some type of synthetic material (nylon or polyester). If the canvas is very strong and offers excellent protection, it is also quite heavy. Synthetic materials, on the other hand, are much lighter and work very well. Rip-stop nylon offers excellent durability, while polyester often offers some UV protection and is fire resistant. As poles are an essential part of your tent structure, you should not neglect them. They are usually made of fiberglass, aluminum or steel. Fiberglass is the lightest but cannot be repaired when damaged. Aluminum is in the goldilocks area, slightly heavier but still quite light and strong enough. Steel poles are the heaviest, but you don't have to worry about them bending or breaking in strong winds.
Weather Resistance
The weather will not always be good and you will most likely be caught in a surprise downpour at some point. That's why you need to think about how your tent is going to perform in wet and windy conditions. If you are camping in an area known for sudden weather changes, this becomes even more important.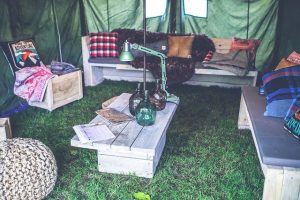 Logically, the gnat is your main protection against the rain. Depending on the tent model, the flysheet covers a larger or smaller part of the tent (the roof is always covered, but sometimes the walls are too). The double roof must be completely waterproof and must not let water through, just as the seams of the tent must be perfectly sealed to prevent water from seeping inside. If you want to avoid unpleasant surprises, learn how to waterproof your tent and learn more about seam sealing. As you will see, the wind is also an important factor, especially if you are camping in an open area with little tree protection. If you expect strong winds, a dome tent is a much better choice due to its smaller surface area.
Weight and Portability
Considering the capacity of these tents, you cannot expect them to be light as feathers. Nonetheless, there are significant weight differences between them, ranging from around 15 pounds to over 70 pounds. Some models may be too heavy for one person, so consider how far you will need to travel to carry the tent and if you will need assistance. If you go with your car and you can park right next to the campsite, this will not be a problem. On the other hand, if you have to walk to the campsite, consider buying a lighter tent. When it comes to portability, remember to check the size of the tent, as it should fit easily in the trunk of your car. It's good when a tent comes in a good carry bag with handles,
Season
While browsing through the different tents, you have probably noticed that some of them are labeled as 3 and 4 season tents. What does this mean exactly? For example, a 6-person 3-season tent is designed to withstand stronger rains and winds, to a level that you may not expect from a 1-2 season tent. Although we have not presented them (because they are not really intended for camping large groups), there are also 4 season tents.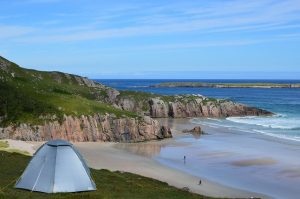 They are durable and able to handle snow while keeping you warm and dry. This is just one of the many differences between 4 season tents and 3 season tents. We think you won't need a winter tent, but it's always good to know. The disadvantage of these "multi-season" tents is that they are heavy and have less ventilation. The disadvantage of these "multi-season" tents is that they are heavy and their ventilation is less good, which leads to greater condensation and makes staying inside uncomfortable in hot weather. If you are a summer camper and want the most comfort possible, a breathable 1-2 season tent will do.
Ease of Installation
Once you reach the campsite, no one wants to spend a few hours setting up the tent. In our opinion, the best 6-person tent (or any other for that matter) is one that can be fully erected in 10-20 minutes. If you are an experienced camper or have someone to help you, the process can go even faster. If you want to learn how to do this, read our article on pitching a tent. As we have already mentioned, certain design features can help you significantly during installation. The poles with the shock cords are already pre-connected, and the color coding tells you which part of the tent goes where. Manufacturers continually strive to make things easier, so it is quite simple to pitch the tent even if you don't have much experience. We also want to add that a large tent like this is also going to need a large area to pitch.
How Big Is A 6 Person Tent?
These tents have an average sleeping area of ​​100 square feet. As we have seen earlier in the text, this is enough to accommodate 6 people of average size without leaving much free space. Even the best 6 person camping tents won't give you much extra space, so they'll be more comfortable for 4 people. If your group is larger and you need more space, we suggest looking at the 10 person tents. On the other hand, if you are only two or three, a smaller tent, such as a four-person tent, will be more useful.
How To Clean and Store A 6 Person Camping Tent?
Before putting the tent in the bag, be sure to remove all dirt and debris, both inside and out. If the tent is dirty, you can wipe it with a damp cloth to remove stains. However, always make sure it is completely dry before storing, otherwise mold and unpleasant odors will develop. If maintained properly, a good tent will last for many years. If you need a more in-depth guide, check out our articles on cleaning and storing tents.
Is A 6 Person Camping Tent Heavy?
Weight varies greatly from tent to tent. Some are light enough to carry on your own, while others are heavy enough that you will need help. On average, they are significantly heavier than smaller 2 or 4 person tents, which is why you shouldn't buy a tent of this type for long hikes and excursions.
Final Verdict
All things considered, six-person tents are a great solution for families and large groups, and offer a significant improvement in comfort over smaller models. Like all other tents, they must also meet certain criteria in terms of quality, design and additional features. We hope our guide helped you find the one you like, and we're sure you and your family will enjoy it. Hope you find this best 6 person camping tents informative.