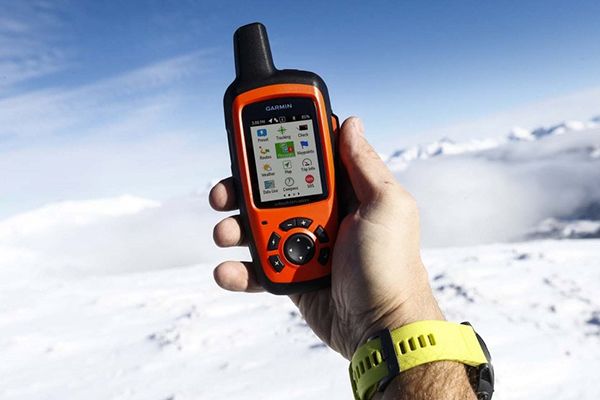 Planning your next hike in 2022 and want a reliable GPS device to take along? Here's a rundown of the best hiking gps for your hike 2022.
5 Best Hiking GPS for Travel 2022
After 9 hours of researching 20 models, we determined that the Garmin GPSMAP 64 is hands down the best hiking GPS for covering wide open spaces.
This hiking GPS stands out not only for its accuracy and the speed of its location, but also for all the features it offers. The multiple services prevent you from getting lost, guarantee your safety by notifying you of difficulties in the terrain, schedule your trips and keep you connected with others. Compact and light, it is ergonomic and versatile.
Although smaller in terms of mapping and memory, this hiking accessory is no less precise thanks to its ultra-sensitive sensors. Its autonomy is correct and its ergonomics are such that it allows you to plan your routes, to be informed about natural conditions or on traffic, or to participate in virtual treasure hunts.
This all-terrain device is equipped with several services that allow you to make various uses of it (hiking, hunting, fishing, trekking, running, mountain biking, etc.). Its large screen gives you access to your heart rate, the stopwatch, the alarm or even the camera, but also the compass, waypoints and satellite images. You can participate in any of the 250,000 saved geocaches, and that makes it as much an ideal training model as it is gear for professionals.
Lightweight, the eTrex 32x is equipped with high-sensitivity sensors for precise location during a hike or mountain bike ride. Its color screen is durable and pleasant to read. It has several options, some paying and others free (including electronic compass, BaseCamp software and barometric altimeter). Among its qualities, we note its compatibility with different media or its internal memory of 8 GB.
This model is particularly interesting for those who make more risky hikes. In terms of security, he has planned everything, from location sharing to sending distressed text messages, including weather forecasts. Its application is useful and, once downloaded, the map indicates precisely the location of elements thanks to its very sensitive sensors.
Best Hiking GPS to Carry: OUR TOP PICKS
BEST HIKING GPS for 2022:
Honorable mentions
Garmin eTrex Touch 35: this compact and waterproof model benefits from GPS and Glonass technologies to provide precise location. Its maximum autonomy is 16 hours. Its color touchscreen has a crisp display. Among its functions, it includes a 3D electronic compass and barometric altimeter. You have access to 250,000 treasure hunts and notifications from your smartphone. You also have the LiveTrack function and the recording of your routes. The manufacturer includes a bike mount, 8 GB internal memory and a microSD card slot. However, the screen is a bit small.
Garmin Oregon 700: this waterproof GPS works with a maximum battery life of 16 hours. It incorporates a 3 "TFT touch screen. Its use is more reserved for geocaching enthusiasts rather than long-time hikers. It thus includes an electronic compass, a barometric altimeter, 250 plots and up to 10,000 points. In addition, you have at your disposal a bluetooth and Wi-Fi connection. If the storage capacity is only 1.7 GB, a microSD card reader and a 32 GB memory card are included. On the other hand, the bike mount is not reliable and the device is a bit difficult to understand.
How to choose the best hiking GPS device? 
At altitude, you are sometimes confronted with different climates and different paths which can quickly make you lose your way. The best GPS for hiking are there to help you follow your route, but they are not easy tools to learn.
Therefore, it is advisable to check which one is the most adapted to your level of familiarization. To find you among the multitude of existing models, we have established a list of important criteria to check:
The quality of the receivers

: these determine the accuracy of the GPS. It is fixed by satellites which retrace your route in the event that you lose your route. Sensors that support GPS and GLONASS satellites provide fast and accurate location even in the most difficult terrain. Barometric altimeters and electronic compasses are other alternatives to improve the quality of the device.

Screen

: Monitor visibility depends on its size and resolution, regardless of whether it is monochrome or color. The size generally varies between 2 "and 5". Since this is a device for use in hiking, it must be resistant to humidity but also readable under the rays of the sun. Most screens are equipped with an anti-glare filter.

Food

: The majority of models can be powered either by a battery, or with batteries or both. The advantage of a battery is that it is rechargeable but it requires more regular charges and lasts less (between 10 and 25 hours). The catch with batteries is that you never know when they are depleted, but they usually last a minimum of a week. Some modes (Eco) save these aspects.

Height and weight

: since this is equipment intended for hiking, it must be portable. The lighter and more compact it is, the better it fits in your

hiking bag

or in a pocket. However, if it is too small, it can hinder its user's vision. So it's up to you to find the right compromise.

Fonctionnalities

: some more expensive GPS increase their number of functions. Among the most popular are geocaching (virtual treasure hunts), BaseCamp technology which calculates your routes, Smart Notification which centralizes your e-mails and SMS, waypoints which are in fact landmarks to be placed, Bluetooth function, lane change assistance, study of terrain difficulties, the possibility of adding satellite images, SOS, heart rate monitor, accelerometer, alarm, stopwatch …

Internal memory

: this often varies between 2 and 4 GB. There is regularly an SD card reader which allows you to add a memory card and thus to place other topographic maps. It is also an opportunity to save more programmable routes. In addition, an application or a website are sometimes made available to you to store your data.
NB: we mainly looked at the hiking GPS itself, but if you want to go further, you can take a look at our article on GPS watches.
Sources
iMore,

Best Garmin Handheld GPS Units in 2020

, July 8, 2020

T3,

Best hiking GPS 2020: stay on track, wherever you're headed

, July 8, 2020