Blog
Top 3 best dog GPS collar without subscription for hunting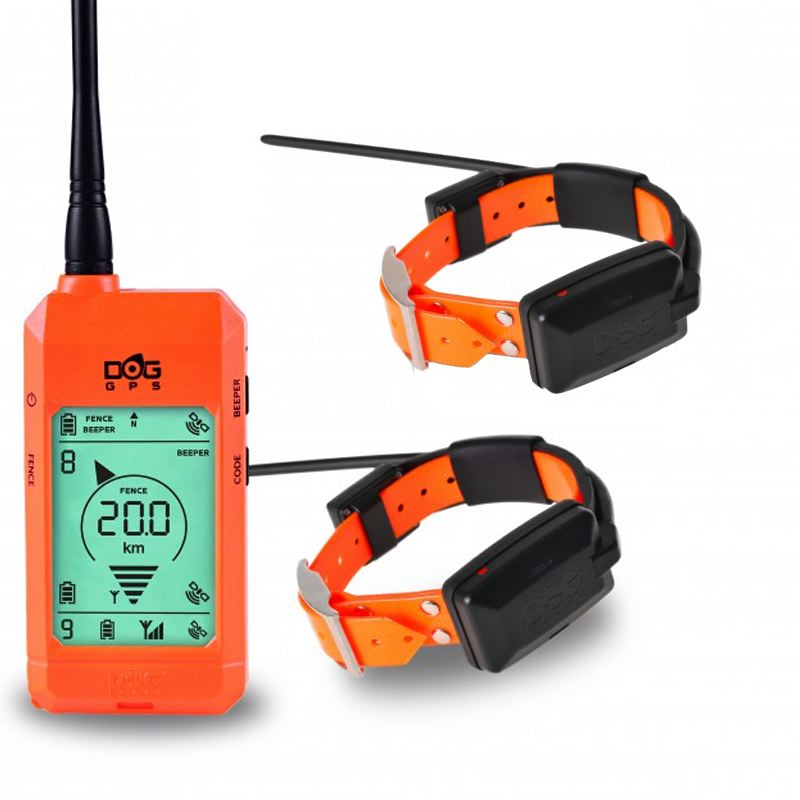 The guide to choosing your hunting dog gps collar without subscription
Every dog ​​owner knows the feeling of panic when they see the yard gate or the door open. They realize their dog is gone. Sometimes your dog will just walk away from you and explore. Or come out of the yard to run after a squirrel or other little creature.
You chase and seek, call and whistle. But chances are, your dog is out of reach of your ear. This is when GPS coordinates can come in handy in locating your dog.
However, most GPS collars are chargeable. We're going to go over the best dog GPS collars with no monthly fees so you can keep track of your dog.
Why buy a GPS collar without a subscription for your hunting dog?
Hunters who work with sport breed dogs face a similar dilemma. Young dogs do not always hold their position and can be distracted. Or diverted by scent trails or other moving animals that cause them to pursue or deviate from their targets.
While hiking in nature, the same can happen for the dog enthusiast who likes to take their pet off the leash on the trails. It's a terrific way to end a day at work with your dog. Knowing that you have to follow him on foot while calling and whistling for him to come back.
Often times, you find yourself in an unfamiliar environment and you are unsure whether your dog will be able to find your way back or that of your base camp.
Fortunately, technology has caught up with our lost or stray dog ​​problems. Today there are hundreds of technological devices that allow you to track your dog by:
cellphone,

computer,

GPS,
Bluetooth

or radio frequencies.
However, their prices and effectiveness vary, and all of these technologies have advantages and disadvantages.
Here we bring you the best GPS tracking collars for dogs with no subscription or fees . However, the operation of these collars is not necessarily free.
In addition to the initial purchase price, there may be data charges associated with using the necklaces. In addition, there are usually maintenance and upkeep costs. Like, for example, replacing the battery.
The GPS collars that we present to you generally have a higher initial cost. However, they do not have a monthly subscription fee. This will save you money in the long run.
Best GPS Collar Without Subscription For Hunting
Garmin Astro GPS
Garmin is the premier brand of GPS tracking systems. They started out as an automotive mapping service. Then, added GPS tracking systems for dog collars to their product line. GPS dog collars are available in a variety of configurations to meet your needs.
Originally designed for sport and hunting dogs. these GPS collars are also suitable for all breeds of dogs. There are also products for tracking small dogs with Astro Mini collars. In addition, you can track one or more dogs with this system.
The T5 Astro GPS Collar has a range of 10 km and a battery life of 20 hours. Plus, it comes preloaded with TOPO maps that let you track your dog over difficult terrain. For athletes, the device also includes hunting measurements and a free one-year subscription to Birdseye View satellite imagery. However, birdseye view is not required and there is no monthly subscription. You will, however, pay a higher initial price.
The favorite of all Garmin GPS collars for dog tracking is hands down the 430 Astro T5 Combo. This is a premium product, and the price reflects it. The Garmin Dog GPS System enjoys high reviews and many people use this GPS Dog Collar.
SportDOG Tek GPS Collar with Electronic Collar Option
The SportDOG Tek GPS Dog Tracking Collar is an example of a versatile system ideal for the occasional hunter or dog owner. This system is expandable to include tracking multiple dogs (up to 12) in addition to geofencing and hunting assistance. The remote control indicates whether the dog is stopped or moving, allowing hunters to know when the dog is pointing or indicating prey. The LCD screen shows you and your dog, and includes a tilt-compensated compass.
The handheld device and collar are both rechargeable and have a range of up to 15 km. The device and collar are waterproof and weatherproof and offer up to 24 hours of battery life. This device is highly rated, with rave reviews on customer service and fantastic support from SportDOG. The most unfavorable opinions relate to the inaccuracies of the geocoding function.
The price of the SportDOG Tek series GPS collar is between $ 400 and $ 500 for the base unit. SportDOG supports this system with upgrades and expansion options. This system is popular with hunters, hikers, or those living in rural areas with properties or wild lands where dogs like to roam. This is a GPS collar for dogs with free use of basic functions.
---
Dogtra Pathfinder Smartphone GPS Training and Tracking Collar
The Dogtra Pathfinder is a combination device designed for tracking and training. This system is also expandable to include up to 21 dogs. and can be used as an electronic collar with an audible signal and up to 100 levels of stimulation to keep your dog on track. You can use your smartphone and Google Maps to track your dog across three levels of terrain.
The device has a 2 second refresh rate, a range of up to 9 miles, powerful output and zoom capability. A geofencing option is also available if you want to keep your dog under control. Dogtra also offers a free offline map download through its Pathfinder phone app.
This device is competitively priced at around $ 400. Top reviews praise Google maps and tracking features. The most unfavorable reviews relate to the size of the collar (which is not suitable for small dogs), inaccuracies in the geotagging feature, and the size and visibility of the antenna, which can be an inconvenience during the trip. hunt. One solution was to pass the antenna through the loop of the collar. To use the basic functions, there is no monthly charge for the Dogtra Pathfinder GPS Collar.
---
How to choose a GPS dog collar with no monthly fees?
All of the dog GPS collars models described above are user friendly.
Plus, they offer customer support and are expandable to include multiple dogs.
The use of GPS and satellite technology gives the owner of a sporting dog peace of mind. With the comfort of knowing that your dog will not get lost during:
the hunt,

hiking

or wandering.
The addition of training tools such as geofencing. An audible signal, vibrations and / or electric shocks go beyond monitoring. This makes it possible to transform these GPS tracking collars into precious training tools.
The electronic collar function is usually integrated into the tracking system. So they work in tandem. In other words, the GPS functions must be enabled for the E-Collar functions to work.
In terms of customer satisfaction. Garmin and SportDOG received top reviews. The Pathfinder system was found to be easy to upgrade and offered free downloads to its customers.
Do GPS dog collars without monthly subscription work for multiple dogs?
For those of you who have multiple dogs. These systems are expandable to include up to 20 dogs. Each dog can be followed individually.
For the avid hunter or the trainer of sport dogs, this possibility of extension can be very useful.
The units with the electronic collar function are certainly more useful for people who train dogs.
One of the benefits of having your dog wear the electronic collar is that after initiation, simply wearing the collar is often sufficient and you rarely need to use it to correct your dog's behavior.
Are GPS Collars For Dogs Without Subscription Effective?
The downside to dog GPS trackers without a monthly subscription is that you have to pay more up front. It can be overwhelming if you are trying to be frugal with your spending. However, the upfront cost is understandable for a dog GPS collar without a monthly subscription.
These are high end products, so are a bit more expensive than some lower quality options that require a subscription.
If you pay more for your GPS dog tracking collar at the time of purchase, you are actually saving money in the long run.
The most important reason to buy any of these items is that they actually work . When your dog is on the run, that's the most important thing. These GPS tracking collars are the highest rated on the market today.
Despite all the affection they have for us. We must never forget that dogs are predators. And that their first instinct, when they see prey, is to jump, run and chase it.
If you take your dog off leash anywhere, you should always have protection just in case. Investing in a dog GPS tracking collar lessens the risk of losing your dog if such a situation occurs.
The Cons of GPS Collars for Hunting Dogs with No Monthly Fee
One of the downsides of these GPS collars is that the system only works on Windows based computer systems. Additionally, other downsides include size issues with some collars if you have a small dog.
Small dogs and purebred dogs cannot wear these collars because they are heavy, bulky, and cannot be shocked. The best solution for owners of small breeds is to consider a GPS tracking device rather than a collar.
Also, weather and water are always factors to consider when out in the wild with your dog. Be sure to take this into account when choosing your GPS tracking collar.
Choose the system that suits the use you want to make of it. Weather resistance does not mean the collar is submersible in water. If your dog is going into the water to retrieve something, you need to be sure that the collar you choose is submersible to a certain depth.
Keep in mind that GPS tracking does not always work in urban areas with high construction density. However, these systems are the best tools for monitoring and training in rural and wild areas.
Mapping features like TOPO and Google Maps, as well as bird's-eye satellite views, are invaluable for tracking your dog in densely forested or mountainous areas, however. The devices with the highest refresh rates have been the most popular for helping customers locate their dogs faster.
Our opinion on GPS collars without subscription for hunting dogs
Let's face it, we all want the best for our best friends. It doesn't matter if you have a sport dog or a guard dog. You want to know where your dog is at all times.
In terms of value for money, these GPS tracking collars are the best investment for the safety and well-being of your dog.
The price is well worth it for the peace of mind of knowing that you won't lose your dog if something unexpected happens while you are hunting or hiking.